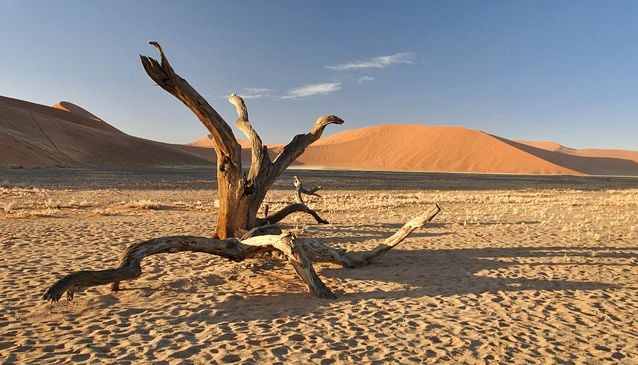 Namibia on a Self-Drive Holiday
Inspiration
this itinerary gives you more time to enjoy the beautiful, wide-open and vast country
When travelling to Namibia for the first time it can be difficult to predict exactly how long you should visit the country in order to make the best of it. It all depends on your individual needs, personal interests, means of travelling and budget. Mapping out a route and a suitable length of time, we take you on a tour of 5 Top Namibia attractions on a self-drive holiday.
Welcome to Nambia! Experience The Kalahari Desert, be amazed by the Fishriver Canyon, stop and count the numerous rock carvings and paintings in Twyfelfontein, visit Namibia's first World Heritage Site, watch the pelicans and flamingos at the Etosha National Park, have a relaxing overnight stay in Windhoek and don't miss a visit to the "Altes Gefängis Prison" in Swakopmund. These are all places providing a good variety of cultural activities for the first-time visitor to Namibia - and every attraction is possible to experience on a self-drive holiday!
The above route is a stretch between 2,500 kms and 3,500 kms depending on your personal interests, driving speed and the stops you make between attractions. As most visitors driving in Namibia do not have any prior experience of long distance driving in this terrain, it is always good to be careful! Avoid excessive hours of driving, avoid driving at night, and make sure to rest and respect the 80km/h speed limit on gravel roads.
Driving a daily average of 300 to 400 kms will allow you to complete the route at a smooth and safe pace, arriving at your individual destination well in time to enjoy everything it has to offer. Given the time estimated, the above route can be mapped out as follows: To complete the 2,500 km route, driving everyday, the route will take around 6 days to complete. You might want to add one extra night though and take the opportunity to visit and photograph the Sossusvlei Dunes. One more night in Swakopmund is also ideal to make full use of all the various activities and to rest! Add another extra day in the Etosha park to experience as much Namibia wildlife as you can.
With your first and last night in Windhoek, the above route will amount a total of 11 days on the road, from arrival to departure, giving you the best opportunities of engaging with local cultures and experience as much as possible in each destination.
For those who prefer to use other means of transport like a charter flight, you should estimate your daily average travelling time to 2 hours for every 400kms. Though you will spend a bit more money, it is well worth it as this itinerary gives you more time to enjoy the beautiful, wide-open and vast country from a 1st class sky viewpoint.
On average, visitors stay from 7 to 14 days and it is a well known fact that most travellers return to explore more of the stunning regions of this African pearl.
Written by:
Oliver & Sarinda Ahrens
PUBLISHED: Jun 9th 2017