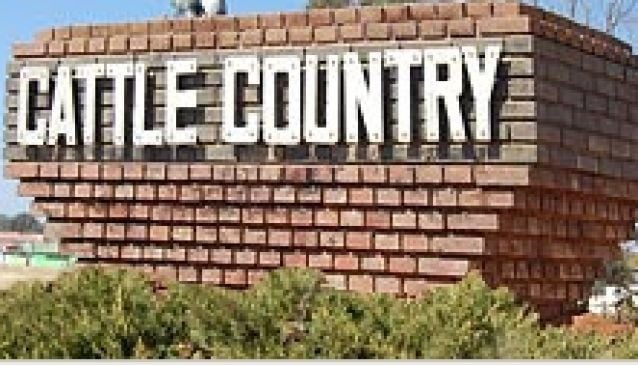 Gobabis
Namibia
The name of the town is Khoi-Khoi for 'the place of strife'
Gobabis is a small town located en-routefrom Windhoek to Botswana, about 110km from the Buitepos border post. The name of the town is Khoi-Khoi for 'the place of strife' but the locals choose to spell it as Gobbabis which changes the meaning to 'a drinking place of elephants' which is probably a reference to the Swart-Nossob river which is close by. The town is located in the heart of cattle country and is known as the capital of eastern Namibia. It is also referred to as the 'little Texas' of Namibia, the town even erected a statue of a large bull with 'Welcome to Cattle Country' inscribed on it. Like quite a few towns in the country, Gobabis was developed around a mission station which was established in 1856 by Friedrich Eggert of the Rhenish Missionary Society. In the late 1800s and the early 1900s conflicts flared up between the Mbanderu and the Khauas Khoikhoi as well as between the settlers and the indigenous people. The Gobabis district was proclaimed by the German authorities in February 1894 and was occupied by a German garrison in June of the following year. A Feature of special interest is the Gobabis Museum on the outskirts of the town which has displays of old agricultural implements and a collection of historic artifacts.
There are a lot of accommodation options in the area including Arnhem Cave & Lodge; Eningu Clayhouse Lodge; Kalahari Bush Breaks and Guest Farm Kiripotib.
Arnhem Cave rest camp is located about 85km south east of the Hosea Kutako International Airport. The lodge is on the edge of the Kalahari Desert in an area characterised by low rocky hills and the well known red sand dunes of the desert. The cave was discovered in 1930 by the then owner of the farm, Daniel Bekker. It is the longest cave in the country. Arnhem Cave Lodge has a restaurant and meals can be enjoyed outdoors on the lapa upon request, the lodge also has an option for those guests who wish to whip up their own dinner in the form of outdoor barbecue facilities. The lodge's swimming pool can provide relief during hot days. Accommodation at the lodge consists of four tastefully furnished thatched chalets and self-catering units with en-suite showers and toilets.
Eningu Clayhouse Lodge is located about 65km from the Hosea Kutako International Airport. The clayhouse has been constructed using 120 000 handmade adobe bricks made from clay from the farm. There is a large swimming pool complete with umbrellas and chaise lounges where guests can relax and unwind. There is also a heated whirlpool for those colder nights and guests can purchase one or two trinkets at the curio shop. Meals are served on the open verandah on summer days and in the heated restaurant on cooler nights. Meals include delectable dishes such as Cameroon Sutra; chicken breast fillet in a peanut crust; Springbok medallions with port wine butter; fried mandumbie roots and seasonal vegetables as well as a chilled espresso mousse. Accommodation at Eningu Clayhouse Lodge consists of eight well equipped comfortable rooms which have en-suite bathrooms; a ceiling fan; a heater; mosquito nets and a sitting corner with a desk. There are two double rooms with double beds; five triple rooms with three single beds in each and a family room with four single beds.
Kalahari Bush Breaks Lodge is set on a private farm spanning about 4000 hectares and is located 85km from Gobabis. The main building has a dining area and bar and breakfast and dinner are served buffet style, light lunches can be ordered in advance. There is an outdoor lapa where guests can relax and have a glass of wine or relax at the pool. There is also a guest lounge with a fireplace for the colder nights. Every room is equipped with en-suite bathrooms; a fan and mosquito nets. Accommodation options include a thatched complex which is a stunning three level building with six rooms and also a private collection, these two chalets offer a little bit more privacy and have the addition of a private dining facility; bar; lounge and open fireplace.
Guest Farm Kiripotib is the nearest geteway to the Kalahari. It is set on an original working sheep and cattle farm in the heart of the Kalahari desert. Breakfast; lunch and dinner can be ordered and lunch packs can be arranged for guests heading out on full day excursions. Afternoon tea/coffee and cake are always available. The swimming pool offers relief during those hot days. Accommodation consists of rooms or chalets. There are two guest rooms, one is a double and the other is a single. They are all equipped with an en-suite shower and toilet; WiFi; luxury linen; tea/coffee station; in-room safe and a private garden terrace. There are chalets, one single; one double and one triple chalet with similar features as the guest rooms.
Written by:
Oliver & Sarinda Ahrens
PUBLISHED: Jun 9th 2017