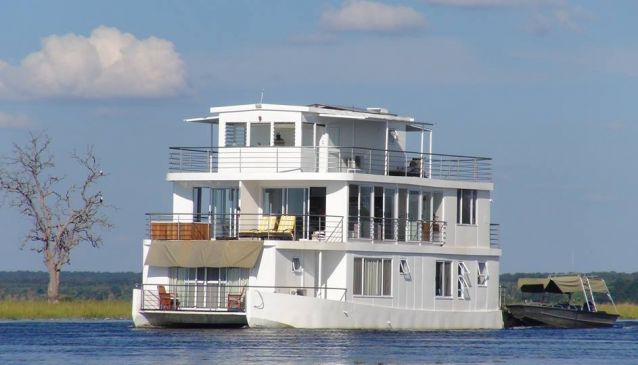 Caprivi
The world and its problems were not our concern for four fabulous days.
Far down in the heart of the Southern Africa lies the Caprivi region – a unique, enchanting and inspiring destination that will make you forget about your daily worries. Hazel, a recent visitor on the Chobe Princess houseboat, formerly known as the Pride of the Zambezi, docked on the Chobe River, describes her river safari experience best when she says, "The world and its problems were not our concern for four fabulous days – it was just us and Africa as it should be experienced!"
What makes the Caprivi such a special place?
An avid birder will certainly be astounded by the abundance and variety of birdlife in the Caprivi region. The twitching and chirping that can be heard in the air mixed with a selection of colours, shapes and sizes, can only be described with one word; bewildering."The Caprivi is a total paradise! I am a devout twitcher (birder) so five lifers (birds I have never identified before) in four days was just the ultimate," Hazel explains. The Caprivi birdlife ranges from the grand Fish Eagle to the elegant Giant Kingsfisher and anything in between.
However, birds are not the only aspect that astonishes a visitor in this Southern African wildlife wonderland. A variety of beautiful creatures, including thousands of elephants, inhabit the Chobe National Park and the neighbouring Caprivi region. Hazel continues to describe his houseboat experience, "Not that birds were all that interested me – getting up so close to elephants, hippos, crocodiles and buffalo was just so very special."
Indeed, this unique destination at the bottom of Africa is where you can see one of the largest concentrations of wildlife in the whole of Africa. Watch the elephants cross the river in huge herds, hear the grandiose roar of a lion, spot a hippo partly submerged in the water or see the shy leopard climb up a tree – whatever the sight, Caprivi will not leave a wildlife lover dissatisfied.
Pair the abundance of birdlife and wildlife with the tranquil, serene surroundings of the Chobe River and take in the spirit of Africa, like Mother Nature would expect of you.
Written by:
Oliver & Sarinda Ahrens
PUBLISHED: Jun 9th 2017