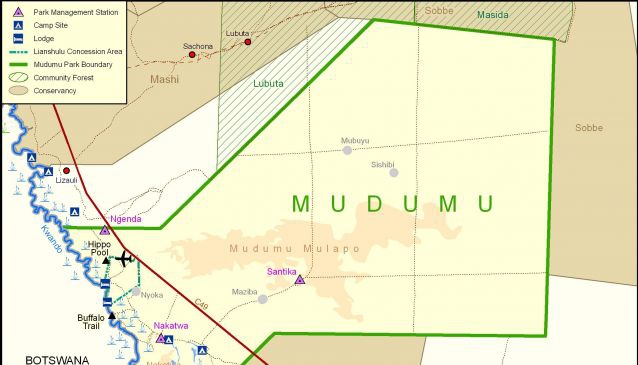 Mudumu National Park
Namibia
The park spans about 100 000 square kilometers
Mudumu National Park shares a border with the Kwando River and has tranquil lagoons and flowing channels. The park spans about 100 000 square kilometers and is home to wildlife such as sitatunga; red lechwe; spotted neck otter; hippo and Nile crocodiles as well as lions; leopards; hyena and wild dogs and elephant; buffalo; roan; sable; kudu; impala; oribi and zebra. Over 430 bird species have been recorded in the area including the likes of cranes; storks; ibis and jacana. There is only one unfened campsite with river water and basic sanitation in the park. Entry permits for the park can be obtained in the Ministry of Environment and Tourism offices in Katima Mulio and Windhoek or from the offices at Susuwe and Nakatwa.
There are a number of accommodation options in the area including Ichingo Chobe River Lodge; Ichobezi Houseboats; Impalila Island Lodge and Kalizo Lodge.
Ichingo Chobe River Lodge is a luxury tented lodge overlooking the Chobe River on the south side of Impalila Island. The main lodge buildings were constructed over the river under thatch and set under shady trees. There is a lounge and bar area and guests can enjoy home-cooked meals served from the chef's set menu and can be taken in both indoor and outdoor dining areas. Electricity at the lodge is supplied by two generators. There is also a swimming pool and deck set on the river's edge. There are eight single or double river facing en-suite Meru tents fitted with wooden doors. Each unit is equipped with cupboards; tables; electric lights and gauze netting. Two houseboats are available for overnight trips, the Ichobezi Moli and the Ichobezi Mukwae houseboats.
There are two houseboats moored at Ichingo river lodge. The Ichobezi Moli and the Ichobezi Mukwae. Both houseboats are run by a crew of five including a chef. Tender boats and personal guides accompany you. The Ichobezi Moli is an 18m long houseboat with four large double/twin cabins, each with a large sliding window. Each cabin is equipped with an en-suite bathroom and twin beds. A lounge and bar are fitted onto part of the top deck complete with comfortable seating. The rest is an open dining area and separate plunge pool. The Ichobezi Mukwae is newer than the Moli but is built about the same and has similar features as the Moli. The front cabin has the added feature of a private balcony and a sun deck above the main top deck.
Impalila Island is situated a place where four countries have common borders, namely Namibia; Zambia; Zimbabwe and Botswana. The island is at the north-eastern tip of Namibia. Guests are transported from Kasane Immigration by boat to the lodge where secure parking is available. The main area at the lodge includes facilities such as a swimming pool; bar; curio shop; reference library; lounge and dining area which are all built under the canopy of an ancient baobab tree. There is a fully stocked bar as well which has a range of South African wines to choose from. There are eight single and double private chalets which are elevated within the lush forest and have amazing views of either the Mambova rapids or the backwaters of the Zambezi River. Each chalet has en-suite bathrooms; either king-sized or twin beds; an overhead fan; hairdryer; mosquito nets and private deck. The immediate surroundings are a labyrinth of waterways; floodplains and bushveld. Game viewing at the lodge is mainly by boat; usually during the mid-afternoon to sunset perios when all the large animals gather at the river's banks to drink; bathe and graze. The area is known for having large herds of elephant and buffalo as well as lions; hippo and the rare Chobe bushbuck and puku antelope.
Kalizo Lodge is located about 40km east of Katima Mulilo and is set in the lush savannahs of East Caprivi. The area is rich with game such as hippo; crocodiles and elephant which can often be seen from the camp. The lodge is an ideal place for self-catering tourists as well as families and is also a good place to host a conference; workshop and even weddings. An early morning snack of tea; coffee and rusks are available to guests before their day activities and a scrumptious lunch is available when they come back and a three course dinner is served in the evening. There is a swimming pool where guests can relax and unwind after a hot day and guests can enjoy a sundowner or two at the bar. Accommodation at the lodge is either in self catering units or chalets. There are seven single or double rustich thatched two-bed en-suite chalets which are set right at the waters edge.There are also four and six bedded self catering units with two and three rooms respectively. These are equipped with a kitchenette with basic cutlery; crockery and two plate stove; fridge; towels and bed linen. All rooms have mosquito nets and plug-in points.
Written by:
Oliver & Sarinda Ahrens
PUBLISHED: Jun 9th 2017