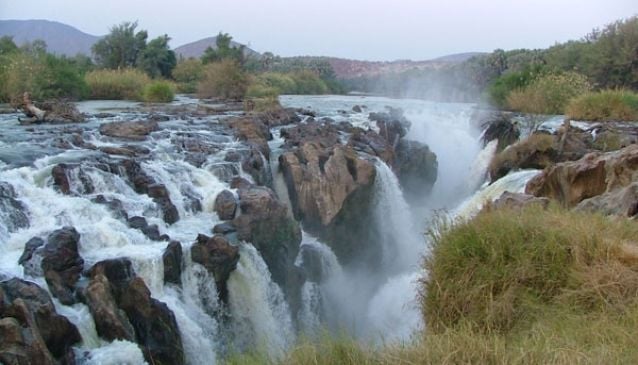 Epupa Falls
Namibia
The falls are also known as Monte Negro Falls in Angola
The Epupa falls are located at the Kunene River, bordering Namibia and Angola in the Kaokoland area. The falls are fored by a series of cascades that drop for about 60m over a distance of approximately 1.5 km. It even reaches a total of about 500m at one point. The falls are also known as Monte Negro Falls in Angola. The name Epupa is a word in the Herero language meaning plumes of spray created by falling water. The falls are easily accessible from the town of Opuwo and a 4x4 vehicle isn't really needed unless one is travelling during the peak of the wet season. Most visitors opt to travel through an amazing area filled with baobab trees; wild fig trees and dancing makalani palms just after Opuwo. The surrounding area around the falls has richly coloured rock walls. The best time to visit the falls would have to be right after the rainy season when the spray is at its peak.
There are four lodges in the immediate vicinity of the falls including Epupa Camp; Epupa Falls Lodge; Kapika Waterfall Lodge and Omaranga Lodge.
Epupa Camp is located east of the Epupa Falls in the Kaokoland area of Namibia. It is a small tented camp which offers visitors total relaxation and personalised service as well as divine meals and seclusion in the lush wilderness. There is a dining room adjacent to the lounge area and both these face the Kunene River, there is also a small plunge pool where guests can relax and cool off. Facilities include a telephone and fax machine; internet facilities for email as well as a laptop for downloading pictures. A small suspension bridge connects the lodge to its own private island where hammocks; benches and lounge chairs have been placed close to the river for guests to enjoy. The camp serves three meals a day as well as afternoon cake and tea/coffee which are included in the full board price. Breakfast consists of a healthy buffet of fresh fruit and nuts; cereals; homemade muesli; freshly baked bread; cheese; tomatoes; cucumbers and eggs. Lunch is usually a light meal of either quiches; lasagna or pasta accompanied by a fresh salad. Dinner is served on a 7m long dining table and is usually served with vegetables from the camp's own garden and complemented by delicious South African wines. Accommodation ath the lodge consists of nine luxury safari-style tents which are each equipped with two single beds; en suite bathroom; 220v electricity available six hours a day; 24 hour bedside lights and mosquito nets.
Epupa Falls Lodge is set amongst mopane bush; makalani palms as well as baobab and fever trees. Other attractions in Kaokoland include the Baines Mountains; Marienfluss Valley; the Kunene River and Ruacan Falls. The settlement has a police station; a clinic; a small farm shop and some Himba homesteads. An attraction of the lodge is a large living and dining area with a restaurant; bar and sundowner deck overlooking the falls. Accommodation is in five rooms which are all built on stilts with under-cover parking beneath to prevent makalani nuts falling and denting your car. Four rooms have twin beds and one has a double bed and all rooms have en-suite bathrooms with a shower; mosquito nets; solar power and a large window overlooking the falls.
Kapika Waterfall Camp is not located on the banks of the Kunene River, it was built on a hill above the Epupa settlement which gives the camp its own special feel. Kapika has a restaurant and bar which are both situated in the outdoor lapa which is the perfect place to enjoy a spot of wine or to relax.The swimming pool overlooks the river and is a popular area for guests to unwind and cool off. Accommodation consists of ten spacious chalets each with two single beds. The rooms are equipped with en-suite showers, toilet and hand basin.
Omuranga camp is set on the banks of the Kunene River, a short walk upstream from the Epupa Falls. The restaurant; bar and lounge are located in an open sided thatched building. Guests can enjoy spectacular vies of the river and the Makalani Palms while seated right at the bar. Breakfast; a light lunch and a three course dinner are served at the lodge. The lodge also has a Himba curio shop where souvenirs; gifts and other little trinkets can be purchased. Accommodation is in 13 comfortable thatched chalets which are separately located and have en-suite bathrooms; mosquito nets and an outdoor washbasin. Furniture and finishings include wooden beds with quality bed linen; bedside table/lamp and a small verandah.
Written by:
Oliver & Sarinda Ahrens
PUBLISHED: Jun 9th 2017