Windhoek: A City of Many Faces
Arts & Culture
Windhoek contains a rich collection of colonial buildings, many of which are still in use today
As the capital city of Namibia, Windhoek is a thriving metropolis combining modernism and history. Its streets are lined with a fascinating mix of culture and architecture that date back more than 100 years. Home to approximately 325 000 of Namibia's 2,3 million citizens, the city is expanding greatly as various new industrial and commercial developments stretch its boundaries.
Windhoek is thought to have been founded twice, firstly by Orlam Captain Jonker Afrikaner in 1840 and secondly by German Major Curt von Francois in 1890. The origin of the name, which means wind corner in Afrikaans, is not clear. It is thought that Jonker Afrikaner named it after the Winterhoek Mountains in South Africa, where his ancestors lived. Other early names included "Ai-Gams" which means Fire Water in Nama, and "Otjomuise", which means Place of Steam in Otjiherero, both names referring to the hot springs found in the area.
Windhoek contains a rich collection of colonial buildings, many of which are still in use today. The Christuskirche, Tintenpalast, Reiterdenkmal and Alte Feste near the town centre are tokens of German presence established in Namibia in the 1900's. The Tintenpalast today serves as the hub of parliament whereas the Alte Feste hosts an array of artifacts and history of Namibia's independence. The Christuskirche still has an active congress and holds services every Sunday. Various registered companies offer city tours of Windhoek as well as Katutura and can transport their guests back to an era of history and intrigue when the cornerstones of Namibia were laid.
Windhoek offers visitors a wide variety of intriguing activities and attractions. From streets lined with local crafts and arts to game drives and nature walks in the city surrounds, choices are endless and possibilities as wide as the horizon. Just outside of Windhoek you can find beautiful lodges and guest farms that offer exquisite sundowner drives, game drives, peaceful nature walks and horse riding for the adventurous. Another fantastic activity is a cycling trip through Katutura, giving guests a more up close and personal view of this culturally rich area. The National Museum as well as the National Arts Gallery offer visitors a deep look into Namibia's past and cultural diversity. With 11 ethnic groups within the borders of Namibia, cultures are celebrated and represented on all terrains including arts, dance, music and food.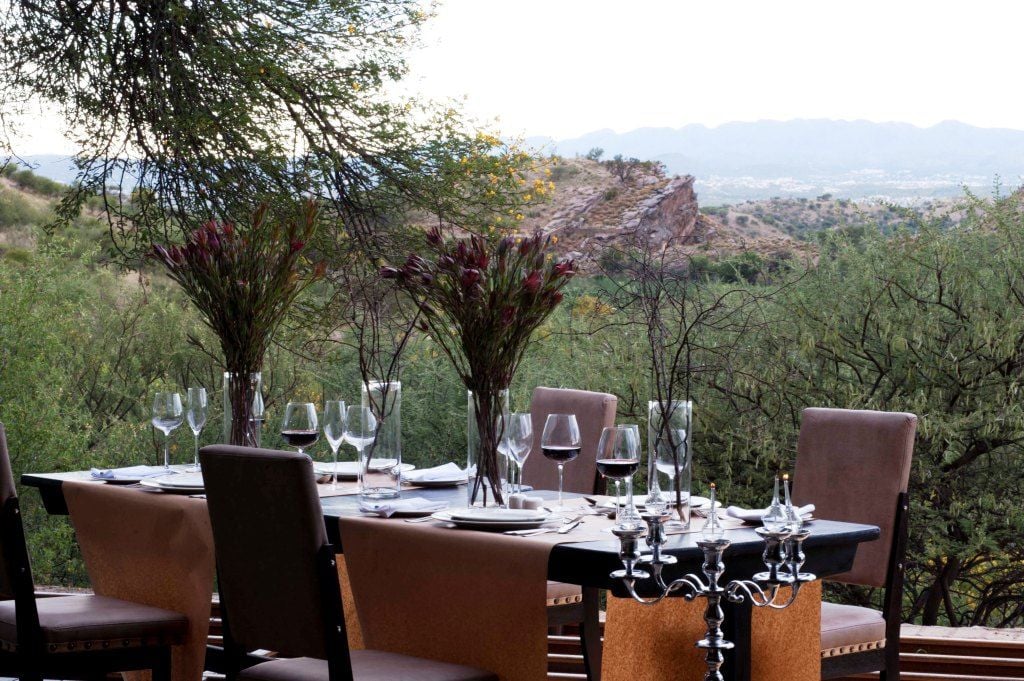 When it comes to a great culinary experience, Windhoek offers an incredible variety of rich African cuisine options as well as other cultural choices. For the adventurous, a trip to Katutura is a thrilling experience. Local delicacies include "smileys" (sheep heads), mopane worms and tripe. Places such as Penduka and Xwama will welcome any visitor with African pride and enthusiasm. For a more elegant setting restaurants such as The Pepper Corn located in Maerua Mall and the Hilton Hotel's Ekipa offer a more formal experience whilst the culture rich main street with its quaint coffee shops makes for an excellent morning stroll as it combines stunning local arts and crafts shops. Other fantastic dining options include O Portuga with its vibrant Portuguese atmosphere, the décor extraordinaire of Joe's Beerhouse or even the culinary arts of NICE (Namibia Institute for Culinary Education). Whether you fancy a perfectly chilled glass of wine or a classy take out, Windhoek abounds with choice.
The capital also boasts a few night clubs and cocktail bars for those who wish to have a taste of nightlife. Maerua Mall's Que Tapas and Primi Piatti offer colorful choices of cocktails, local beers and spirits. The Skybar at Hilton is a magical experience with twilight views of the city while you sip on quaintly prepared drinks. Various night clubs can give a guest the chance to test their dancing skills with those of the local youth. The Stellenbosch Wine Bar and Bistro, The Gourmet Restaurant, and various Chinese restaurants further enhance the already healthy choice of variety. The Desert Jewel Casino at The Windhoek Country Club and the Kalahari Sands Casino offer guests a more sophisticated option of entertainment.
For guests arriving early, a typical day in Windhoek can start with a city tour to explore its history, architecture and atmosphere. Lunch at one of Windhoek's city centre coffee shops or Katutura suburb can be followed by a stroll through quaint arts and crafts stalls, the National Museum and the National Art Gallery. Sundowners at one of Windhoek's breathtaking hotels or guesthouses build up to exquisite dining experiences at prestige restaurants or atmospheric pubs and grills. End the evening in style by trying your luck at one of the casinos or simply enjoying a night cap while staring out over the neon stars paving the roads in ambient yellows. A local cast or even a ballet may be enjoyed at the National Theatre of Namibia.
Although considered small compared to other capitals of the world, Windhoek holds nothing back and can enthrall its guests with vivid variety and endless entertainment.