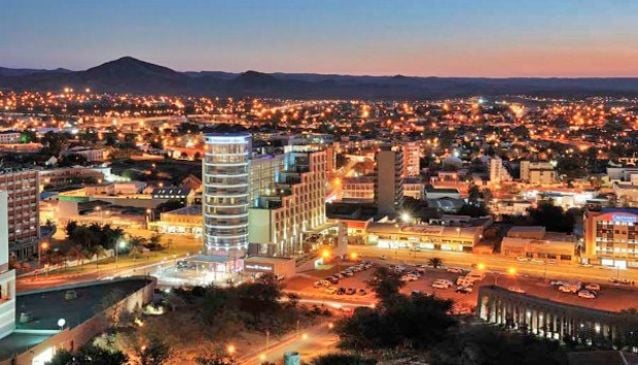 Windhoek
Editorial
Windhoek is the social hub of the country
Windhoek, is the capital city of Namibia and it is situated in a basin between the impressive Khomas Highland; Auas and Eros Mountains. The city is about 1,680m above sea level and is approximately 650km from the Orange River and about 360km from the Atlantic. The capital city is well known as the jumping point of many a safari trip because of its central location and convenient services such as the numerous car hire companies it has and its International airport, the Hosea Kutako Airport.
There are about 200,000 people residing in Windhoek, which is less than some larger countries have in a suburb alone. However, this number is on the rise due to people emigrating from the rural areas in search of employment. The city is always kept neat and tidy and is well known as one of the cleanest cities in Africa.
The city centre is characterised by a medley of German style buildings, a calling card of the country's colonial history. Building include the Alte Feste; Christuskirche and Tintenpalast which is the parliament building. The Alte Feste which was once the bastion of German colonialism, now houses the National Museum which is right in front of the well known Reiterdenkmal memorial. Other buildings of interest include St. Mary's Cathedral and the Turnhalle building.
Windhoek has gone by various names, many of which were inspired by the hot water springs found in the area, the earliest of which were the Damara /Ais //Gams which translates to firewater and the Herero word, Otjomuise, which can translate to place of steam. The city was also once called Queen Adelaide's Baths, for a short time only. Many, many years later, the city adopted the name Windhoek which directly translated means 'windy corner'.
Windhoek has a wealth of activities for visitors to enjoy, the nightlife is pretty exciting and there are more than enough restaurants; night clubs; bars and cafes for visitors to frequent. Windhoek is also home to the country's brewing industry. The city also has a number of private hospitals; a state run hospital; doctors' surgeries; banks; pharmacies; supermarkets; bakeries and retail stores. There are also a number of shopping malls including Maerua Mall and Wernhill Park.
There are plenty of accommodations offered in and around the city including the Heinitzburg Hotel; Furstenhof Hotel; Kalahari Sands Hotel and Casino, and many more.
The Heinitzburg Hotel is located in Windhoek and overlooks the city. The castle was commissioned in 1914 and is known for its attention to detail and undivided attention from both the hosts and the staff. The hotel has a lounge and bar; meeting and conference rooms; restaurant and outdoor swimming pool. There is also an outdoor dining area; a lounging area and valet parking. Accommodation at the hotel consists of 16 spacious rooms which all have amazing views of the capital city and surrounding Khomas Hochland mountains. Rooms consist of the Superior rooms which are fully equipped with en-suite bathroom; air conditioning/heating; direct dial telephones; electronic safes; mini-bar; television with cable channels and music facilities. The Deluxe rooms are poolside and have both a bath and shower and similar features as the Superior rooms. The family room can accommodate up to two adults and two children and has two rooms; two bathrooms and an inter-leading door.
Hotel Furstenhof is centrally located in Windhoek, just a few minutes' walk from the busy Independence Avenue. It is a traditional hotel in the middle price bracket and all the rooms have been upgraded, making them some of the finest in the city. Facilities at the hotel include a 24 hour reception area; office bar and restaurant with 18 hour room service; same day laundry service; wireless internet; airport and local area shuttle service; safety deposit boxes; fax machine and photocopying as well as secure on-site parking. The hotel also has a lapa area and a swimming pool with lazy loungers and sunshades. Accommodation at Furstenhof includes 33 rooms which each have an en-suite bathroom; individually controlled air-conditioning; satellite television with DSTV channels; direct dial telephones and modem access; hair-dryers; shaver outlets; mini-bar; tea/coffee station; ample work space and digital safes. The hotel also has conference and banqueting facilities for between 70 and 120 people.
The Kalahari Sands Hotel was refurbished in 2004 and is centrally located in Windhoek's CBD. It is a four-star hotel and has the highest level of comfort and luxury. The hotel has concierge service; babysitting service; barber/beauty shop; boutiques; coffee shop; florist; Jacuzzi; safe; guest Laundromat; laundry/dry cleaning service; paid on-site parking/security and 24 hour room and wake-up service. Accommodation at the hotel includes 151 standard twin rooms with twin beds; en-suite bathroom with bath and shower; air-conditioning; telephone; fridge; tea/coffee station; television; radio; direct dial telephones; email connection and an international adapter, 16 luxury rooms with similar facilities as the standard twin rooms as well as a lounge area, 5 luxury suites with similar facilities as the twin rooms as well as a lounge area and dining room and the Presidential suite consists of three separate rooms including two bedrooms with two king size beds; a spacious lounge and dining area as well as en-suite adjoining bathrooms; a Jacuzzi and a shower.
Written by:
Oliver Ahrens
PUBLISHED: Dec 3rd 2017