Usakos
Namibia
The area is known for having high temperatures
The town of Usakos is often used by travelers as a final pitstop on the way to the picturesque coastal town of Swakopmund which is about 140km away and is the ideal coastal getaway in the country. The area is known for having high temperatures so travelers should really take advantage of the refreshment stop to stock up and also make sure their vehicles are in tip top shape, especially if they'll be making a segue to other destinations in and around the area.  Petrol and snacks can be purchased at the gas station and visitors can also make use of the Chameleon coffee shop which has a selection of souvenirs to browse through and purchase. There is also the Namib Wuste Farmstall which is located en-route out of town to Swakopmund. The breakfast; homemade preserves and biltong at the farm stall are highly recommended.
Various rock paintings of giraffe; rhinos; as well hunters; women; elephant; ostrich and springbok can be seen at Phillip's Cave at Farm Ameib.
There are quite a few accommodation options available in the area including Ai Aiba Lodge; Epako Game Lodge; Erongo Wilderness Lodge and Etusis Lodge.
Ai Aiba, the rock painting lodge is located on Farm Anibib, about 45km from Omaruru. The lodge is set amongst granite rock boulders, overlooking the Erongo Mountain Nature Conservancy. The name Ai Aiba is Khoekhoegowab for 'the person who walks in front to show the way'. The main building at the lodge houses the restaurant; Bushmen Bar and the TV room with a collection of books. Guests can also unwind at the palm-fringed swimming pool and in the gardens as well. Accommodation at the lodge is in 20 luxurious twin and double rooms which are housed in ten thatch-roofed bungalows. Rooms have African inspired decor and each have an en-suite bathroom with a private patio which has amazing views of the surrounding area. Activities at the lodge are oriented towards exploring the diverse subject of rock paintings and there are various guided walking trails to enjoy. Wildlife on the farm includes kudu; springbok; oryx; damara dik dik; common duiker; klipspringer; hartmann mountain zebra; giraffe; jackal; leopard; brown hyena; warthog; aardwolf; aardvark; bat eared fox; genet; porcupine; dassies; springhare and various bird species.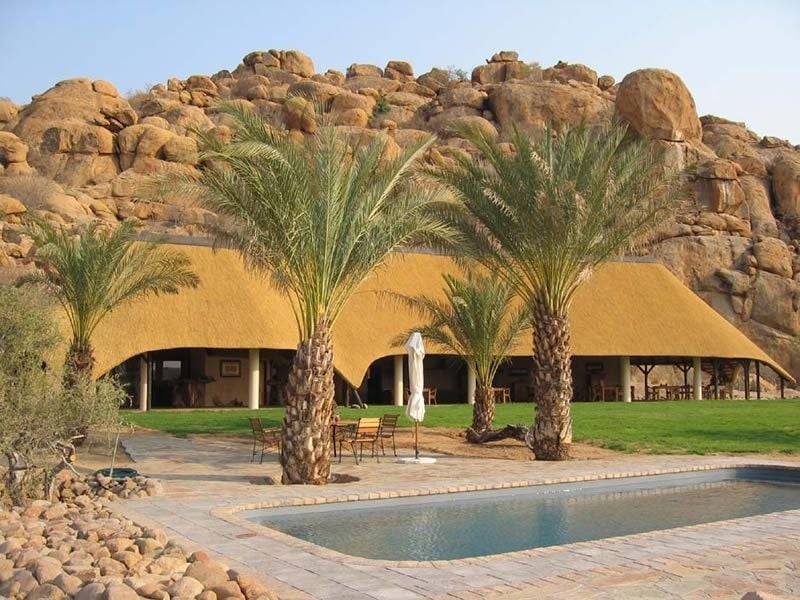 Epako Safari Lodge is located on a private reserve spanning about 11 000 hectares near the town of Omaruru. It is set in a mountainous region on the outskirts of the famous Damaraland. It is midway between Windhoek; Swakopmund and the Etosha National Park. Booking at Epako is exclusive and only one group of two to 20 people can be accommodated at a time. This would include all the facilities; accommodation and services the lodge has to offer for a minimum of four nights. The lodge even has its own international executive chef. Epako is a Herero word meaning 'the corner in a mountain range'. Amenities at Epako include a dining room that overlooks a spotlit waterhole; bar and lounge with satellite TV; swimming pool; internet facilities; tennis courts; souvenir shop; table-tennis and a small aviary. The large gardens are connected by walkways. Meals can be served in either indoor or outdoor dining areas and chefs prepare meals which are a combination of Namibian and French cuisine which are complemented by a medly of delicious South African wines. Accommodation at the lodge consists of 10 rooms which all have en-suite bathrooms; air-conditioning; mini-bar; satellite TV system; mosquito nets; tea/coffee station; telephone and garden or bush view from private terraces. There is a Waterhole suite; River Suite; Loft suite; Junior suite and Deluxe Rooms.
Erongo Wilderness Lodge is nestled amongst boulders and granite formations on the outskirts of an ancient volcano. Raised wooden walkways and natural stone steps connect the tented chalets to the main area. The restaurant and pub at the lodge are situated on a separate rocky outcrop with a view of the floodlit waterhole. Tea/coffee and rusks are served before the early morning walk and a huge brunch consisting of cereals; yogurts; fruit; homemade breads; cheese; cold meats; a choice of omelettes and pancakes or a full English breakfast. The elevated pool deck is perfect for a sundowner or a night cap. There are ten tented chalets which are built on stilts and are erected under thatched roofs for shade and have en-suite bathrooms. They also have a bush-style mini-bar; mosquito net; tea/coffee station; in-room safe; reading lights and fine linen.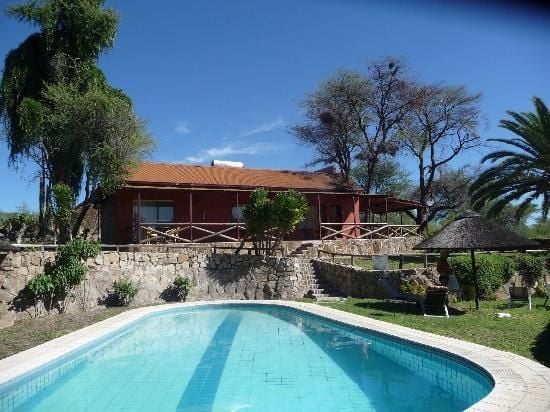 Etusis Lodge is located on a 12 000 hectare Etusis Nature Reserve and is about 2 hours drive from Windhoek, en-route to Swakopmund. Meals at the lodge can be enjoyed in the restaurant or on the lodge terrace. Accommodation at the lodge includes seven stone and thatch bungalows which are well spaced for privacy with private en-suite bathrooms; tea/coffee station; mini-bar and cooling fan. There are five Meru-style tents which have a power point and three of these have their own private shower and the other two share a communal bathroom. The Farmhouse can accommodate between two and seven people and are equipped with self-catering facilities, there are four bedrooms, three doubles with en-suite bathrooms and one sinlge; a kitchen and a lounge. The Etusis Wildschutzgebiet has a sitting room; dining room; large kitchen/living room with cooker; fridge and pantry.