Swakopmund
Namibia
Namibia's most popular holiday destination
Our Top Experiences and Tours in Namibia:
If youʻre booking your trip to Namibia last minute, we have you covered. Below are some of the top tours and experiences!

The coastal town of Swakopmund is well known for its Palm Tree-lined streets, seaside promenades, stunning accommodation and gorgeous beaches. It is Namibia's most popular holiday destination. Every year dozens upon dozens of people flock to the town and who can blame them. Whether it's just a short jaunt over a long weekend or whether it's a well deserved vacation, Swakopmund is always the place to be.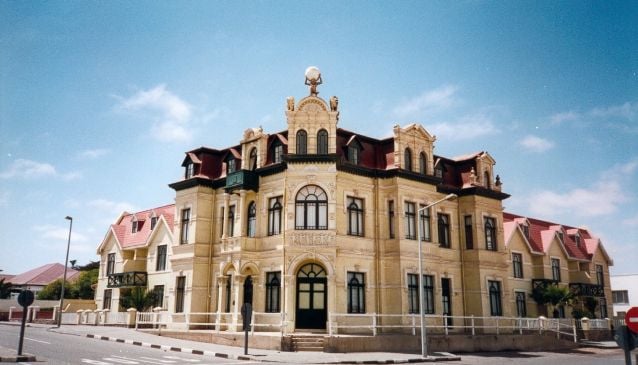 The main beach area is called the Mole and is the result of an unsuccessful attempt at constructing an artificial harbour. Another famous area in Swakopmund is the Jetty which draws huge crowds of people every year. Buildings and monuments of note in the town include the Hohenzollern building; the Marine memorial; the War memorial; Princess Rupprecht House and the old Swakopmund prison.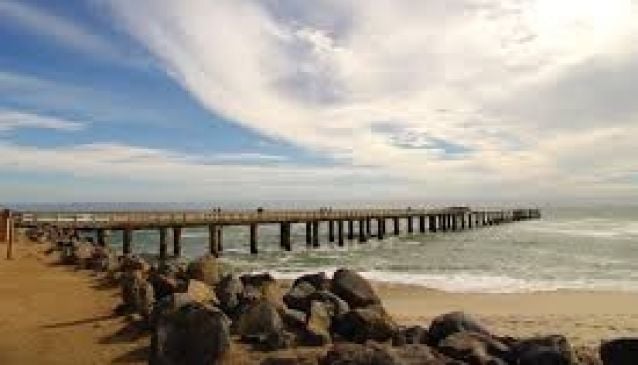 Accommodation in and around the town includes Alte Brucke; Beach Lodge; Central Guesthouse; PebbleStoneHouse Bed & Breakfast; Desert Breeze Lodge  and many more.
Alte Brucke is located nearby an old bridge and derives its name from the bridge as well. It is only about a 10 minute walk to the town centre and is within walking distance of the beach.
It is a self-catering, bed & breakfast establishment and as such doesn't have its own restaurant and bar, but it is in the vicinity of fine eateries such as the Tiger Reef Beach Bar; The Tug; The Lighthouse and the Napoli Tana. Alte Brucke offers Wi-Fi connectivity; disabled access; secure off-road parking as well as laundry service.
Accommodation at Alte Brucke consists of 23 luxury self-catering units. All rooms are non-smoking. The luxury chalets are equipped with four-channel DStv; heaters; telephone; mini-bar; fridge; microwave; toaster; kettle; oven; cutlery; pots and pans; tea/coffee station as well as an in-room safe. Five of the chalets have en-suite bathrooms and the other chalets have shared facilities. There are eight exclusive chalets which can accommodate up to two people each. These have one bedroom and en-suite bathrooms. Alte Brucke also has a camping option with ablution facilities.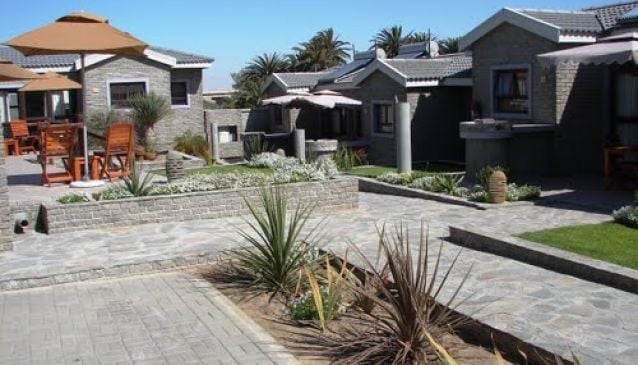 Beach Lodge is located directly on the beach in Swakopmund and has amazing ocean views from most of the rooms. It is about 6km from the town centre but is well worth it.
The lodge has a restaurant called The Wreck which serves divine a la carte meals. Beach lodge also has a bar and a small guest lounge. The lodge is separated from the beach by a garden area with a perfectly manicured lawn, which is a feat in itself. The lodge provides same-day laundry service; Wi-Fi facilities and secure parking.
Accommodation at the lodge includes 19 rooms. There are eleven twin rooms which each have twin beds; separate bathroom with a shower and four of these have self-catering facilities and fireplaces, and five are on the first floor and have balconies. The other six are on the ground floor and have sliding doors opening onto a spacious patio. The luxury double room has a queen sized bed; separate bathroom; its own fireplace and balcony.
There are five family room, two of which are located on the first floor of the lodge; all the family rooms have self-catering facilities; en-suite bathrooms and a fireplace. Another family room has twin beds, two bunk beds and a separate bathroom with a shower. The one luxury family room has twin beds, a double bunk bed, separate bathroom and shower, self-catering facilities, a small lounge area, a fireplace, sliding door and balcony. The other luxury family room has an oval bath, a double shower, a flat screen television, sliding door as well as a balcony.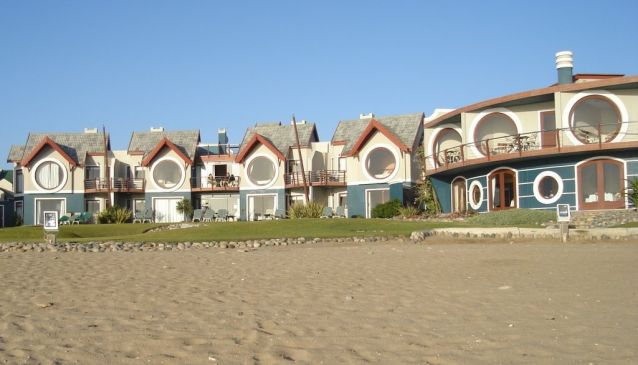 Central Guesthouse is a B&B located in the heart of old Swakopmund and is within walking distance of the town's many restaurants, shops and other amenities.
Facilities at the guesthouse include a computer in the lounge as well a room desk and Wi-Fi connectivity. Both floors at the guesthouse have an honesty mini-bar and tea/coffee stations.
Accommodation includes double rooms which are tastefully furnished with dark mahogany furniture. All rooms have an en-suite bathrooms; flat screen television; hair-dryer; extra length beds; orthopaedic mattresses and high quality linens. A continental breakfast or another breakfast option can be delivered straight up to a guest's room. And breakfast as well as lunch pack can be prepared for guests upon request.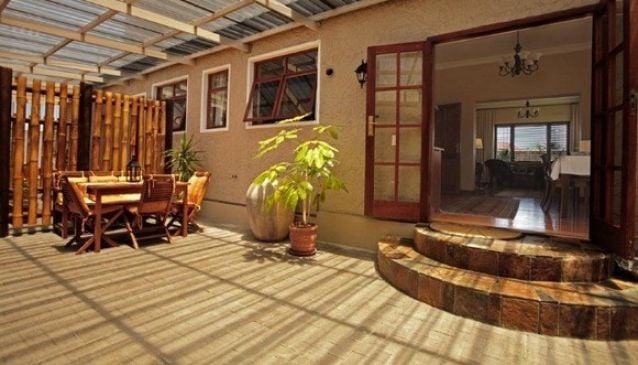 PebbleStoneHouse Bed & Breakfast is about a ten minute walk to the beach and is located in the neighbourhood of Kramersdorf.
Accommodation is offered in either twin or double bedrooms which have a calming atmosphere and beach home feeling due to the white washed walls and wooden floors. There are overhead ceiling fans; 20 channel satellite television; electronic in-room safe; mini-bar; tea/coffee station; hair-dryer and free Wi-Fi connectivity. All rooms open onto private terraces which lead to a tranquil garden.
The only meal option at the B&B is breakfast but staff are always available to help guests make reservations at various eateries around town.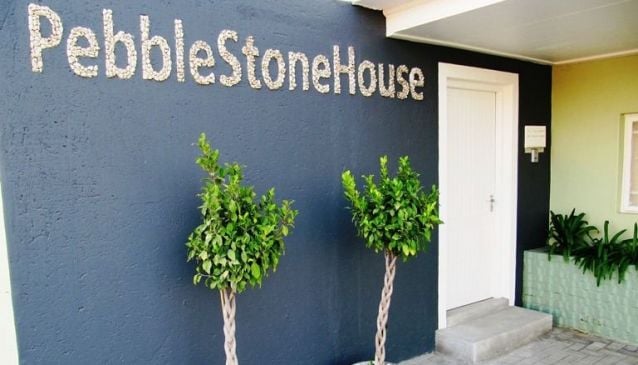 Desert Breeze Lodge is just a few minutes' drive from the town centre and is set on the banks of the Swakop River.
There is secure parking as well as a laundry facility available at the lodge. Accommodation consists of luxury bungalows and a villa. The 12 luxury bungalows are en-suite and have separate bed and seating areas equipped with Wi-Fi; a mini-bar; tea/coffee station and digital in-room safe. The upmarket villa sleeps up to six people and has similar features as the bungalows.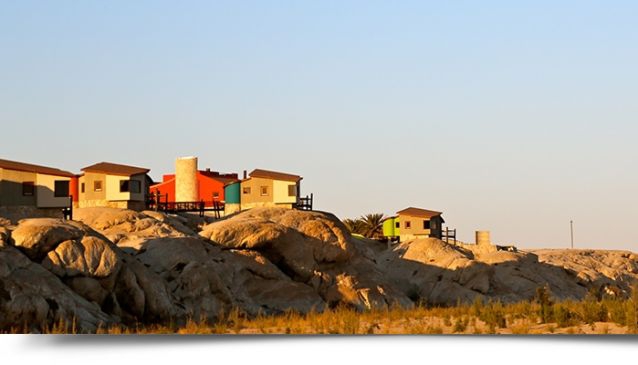 Activities in and around the Swakopmund area include Hot-Air Ballooning; Bird Watching Day Trips; Cape Cross Tours; Cape Cross & Messum Crater Tours; Fishing; Living Desert Tours; Namib Desert Day Trips; Namib Desert Night Walks; Quad Biking; Sand-Boarding; Sandwich Harbour Tours; Skydiving; Spitzkoppe Day Tours and many more.