Rundu
Namibia
The town has rapidly expanded and is often referred to as the capital city of the northern regions
The town of Rundu in the Kavango region of Namibia borders Angola on the north-eastern part of the country. Although it is a town not known for its aesthetic  features, amazing views of rivers can be found in the town. The town has rapidly expanded and is often referred to as the capital city of the northern regions, it has become the administrative center and the main economic hub of the region. The area is well known for producing mahangu and for its cattle and goat herding as well as production of intricate wood carvings. Because it is so close to Angola, the town has a slight Portuguese influence.
Rundu is close to large towns such as Katima Mulilo and Grootfontein, due to this reason, Rundu is a popular and obvious refuelling stop and rest stop. It is used as a stop-over for many people heading to or from the Etosha National Park; the Caprivi Strip; the Okavango Delta and other areas. All bus services that run between Windhoek and the Victoria Falls; Livingstone and Harare pass through Rundu. Since the expansion of tourism into the area, wood carving has become one of the more thriving industries. Items such as wooden spoons; bowls; masks; ornaments and trinkets of all shapes and sizes can be purchased in the areas in and around Rundu. The Mbungura Woodcraft co-operative allows visitors to see carvers hard at work creating the pieces and also provides an area for visitors to purchase some carvings.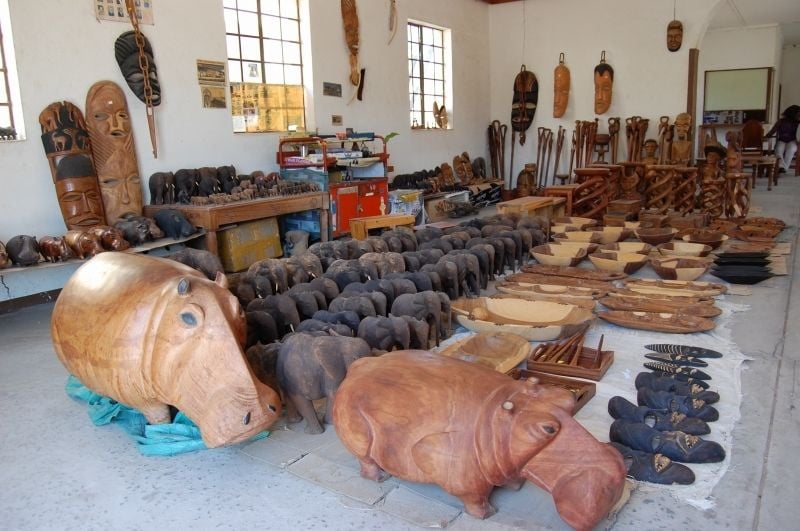 Due to its strategic location, Rundu and its surrounding areas offer a large variety of accommodations such as Hakusembe River Lodge; Kaisosi River Lodge; Kavango River Lodge and Mahangu Safari Lodge.
Hakusembe River Lodge is located about 15km west of Rundu and is the perfect stop-over for those heading to the Caprivi Strip or on their way back to Windhoek from the Etosha National Park. The thatched main lodge area has a reception; swimming pool; restaurant and a bar with a small seating area. Guests are provided an English breakfast; light lunch and dinner consisting of fish; venison or game steaks. The lodge has disabled access; laundry service and internet connection. The lodge has nine bungalows which are set between large acacia trees and overlook the Kavango River, these are equipped with air-conditioning; a fridge; fan; mosquito nets; tea/coffee station and an in-room safe. The lodge also has a floating chalet set on the Kavango River and often serves as a honeymoon suite and has similar features as the bungalows.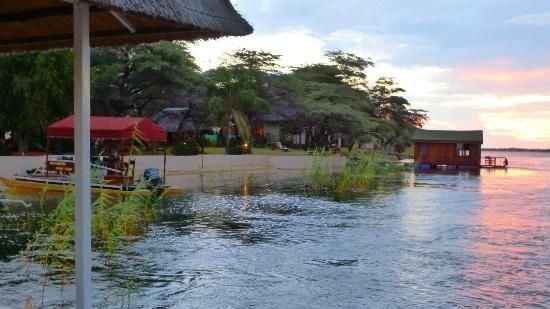 The Kaisosi River Lodge is located about 7km east of Rundu and is set on the banks of the Kavango River. It is perfect for those heading to Popa Falls or the Caprivi region. The lodge has a thatched main building with a restaurant; bar and guest lounge. All meals at the lodge are served from an a la carte menu. The lodge also has two swimming pools for guests to use as well as laundry service and internet connection. Accommodation at the lodge is in 16 luxury thatched chalets which are all equipped with air-conditioning; telephone and mosquito nets. There are double rooms with a double bed and bathroom with a bath; twin rooms with two single beds and either a bath or a shower; triple rooms with three single beds and a shower and family rooms furnished with a double bed and two single beds and have a bath.
The Kavango River Lodge is located in Rundu and is also set on the banks of the Kavango Rier, overlooking southern Angola and the surrounding flood plains. The lodge is a welcome stop-over for those en-route between Windhoek; Botswana and the Victoria Falls. Breakfast; lunch and a buffet dinner are served in the lodge's restaurant. Traditional country-style meals can be enjoyed accompanied by a refreshing drink from the mini-bar. Guests can dine in the outdoor dining area as well should they prefer. Breakfast and lunch packs can be provided upon request. Accommodation at the lodge includes eight single or double chalets equipped with en-suite bathroom facilities; air-conditioning; a telephone and a four channel TV system. There are eleven self-catering units which have similar features as the chalets as well as a hotplate; kettle; cutlery; crockery and fridge. Folding beds and mattresses can be provided for children upon request and braai packs; cold beer and soft drinks are available at the kiosk.

The Mahangu Safari Lodge is about 22km from Divundu on the western bank of the Kavango River. It is an ideal stop-over for those en-route to or from Maun; the Okavango Delta in Botswana or the Victoria Falls on either the Zambian or Zimbabwean side. The thatched lodge is built among Jackalberry trees and wild date palms. The main dining area; bar and living room as well as the swimming pool have amazing views of the Kavango River. The lodge also has a cozy fireplace where guests can cuddle up on those cold nights. Breakfast; lunch and dinner are served from a set menu. Accommodation at the lodge includes ten bungalows with either twin or double beds and en-suite facilities with a shower, toilet and washbasin; air-conditioning; mosquito nets; 220v electricity and lights; hot and cold water; filtered water; hair dryers and tea/coffee station. There are also six luxury 'big safari' tents with twin beds; en-suite shower; toilet; washbasin and other features similar to those of the bungalows.