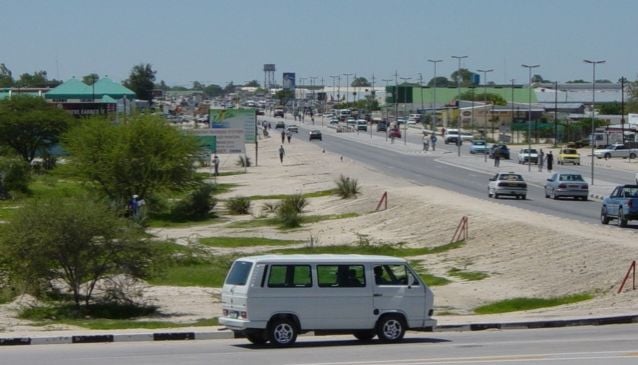 Oshakati
Namibia
The town is the hub of trans-border trade with Angola
Oshakati is one of the more major towns in northern Namibia, the area is densely populated and is formerly known Owamboland. It was split into four regions; Oshana, Oshikoto, Ohangwena and Omusati. In the local dialect of Oshiwambo the town's name means 'that which is between'. Oshakati as well as Ongwediva and Ondangwa are the only major towns north of the Etosha National Park. The town is the hub of trans-border trade with Angola and the region's main city is surrounded by Oshanas which are inland water channels; palm trees; farmland and settlements. Oshakati is Namibia's second largest city and the town shares an airport with Ondangwa.
Oshakati was officially founded in July 1966 and was used as a base by the South African Defence Force during the South African Border War and Namibian War of Independence. The town has a vibrant entertainment scene with a variety of small clubs featuring live bands. The town also has a large number of informal shops known as cuca shops. The name was adopted by shops on the Angolan border that sold Angolan beer of the same name, but is now used throughout the region. In recognition of the town's progress and development since Namibia's independence, the Oshakati Town Council building was inaugurated by the then Botswanan President Festus Mogae.
There are a number of accommodations in the Oshakati area to suit every traveller's needs, including Oshakati Country Lodge; Ruacana Eha Lodge; Ondangwa Hotel and Ongula Village Homestead Lodge.
Oshakati Country Lodge is located in a thatched main building that houses a restaurant; lounge; bar and conference area. The three-star lodge has 48 air-conditioned double rooms that each have an en-suite bathroom; television; room service; mini-bar; tea/coffee station and mosquito nets fitted over the windows. Guests can order breakfast; lunch and dinner from the restaurant's a la carte menu. Buffet style service is provided in peak seasons for larger groups. Guests can also have dinner served in the palm shaded courtyard around the swimming pool. The lodge's conference room can accommodate up to 150 people and is perfect for hosting banquets and wedding receptions.
Ruacana Eha Lodge is located in the town of Ruacana about 20km from the Ruacana Falls. The word 'eha' describes a piece of jewelry worn by the Himba but it also means home. The lodge has a restaurant; bar and lounge; swimming pool; gym; volleyball and squash courts. The lodge also has a state-of-the-art conference facility with a seating plan which is cinema style and can seat up to 42 people. Accommodation at the lodge consists of 21 en-suite rooms which all have air-conditioning; six channel TV; telephone; fridge; tea/coffee station and a private veranda.
Ondangwa is a town located in the Oshana region in Northern Namibia. It is about 92km from the Etosha National Park and about 80km from the Angolan border. Ondangwa means 'the end of the Ondonga area', Ondonga being of this region's kingdoms. The Ondangwa lodge is a four star Protea Hotel and has a conference centre; restaurant; bar and large swimming pool. There are lazy-lounge chairs and umbrellas dotted around the swimming pool for guests to make use of, there are also two garden terraces with waiter service if requested. Accommodation at the lodge consists of standard rooms which have air-conditioning; en-suite bathroom; hotel package satellite DSTV; telephone; writing desk/chair; room service; mini-bar; tea/coffee station and an in-room safe. Some of the rooms have double and queen-size beds and others have twin beds. Two of the rooms have been converted for the disabled. The lodge's restaurant serves an a la carte menu for breakfast; lunch and dinner and buffet style meals are provided in peak seasons.
The Ongula Traditional Homestead is located in the heart of the Owambo region in the north of Namibia. Ongula offers guests the opportunity to participate in local activities and chores like pounding mahangu meal; cattle herding; cooking on the open fire; etc as well as learning traditional crafts such as basket weaving and clay pot making as well as how to make traditional food and drinks. The main lodge area offers a bar and restaurant as well as a boma with an open fireplace which is a good place for little get-togethers before or after dinner. Accommodation at the lodge consists of four luxury rondavels which are traditional African round huts. Each rondavel has an en-suite bathroom with a shower only; twin beds; mosquito nets; enclosed veranda; tea/coffee station and sliding doors fitted with gauze netting.
Written by:
Oliver & Sarinda Ahrens
PUBLISHED: Jun 9th 2017