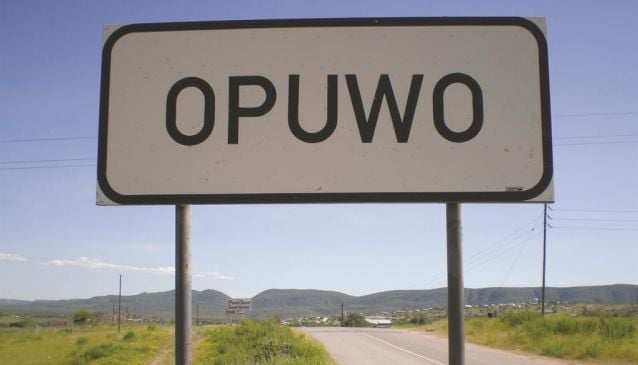 Opuwo
Namibia
Opuwo is known as the capital of Namibia's Kunene Region
Opuwo is known as the capital of Namibia's Kunene Region. It is the only major town in the area and as such is an important base from which to explore the amazing Kaokoland area and partake in excursions to see the nomadic Himba people. There aren't as many attractions in the area as can be found in other areas of the country but the fact that is practically the only settlement in the area, travellers often stop to refuel in the town and purchase some basic groceries. The town's remote location is highlighted by the commercial buildings which are surrounded by traditional rondavels as well as Himba huts. Opuwo in the local dialect of Herero means 'The end'.
The main road from Palmwag to Opuwo, the C43 as well as the C41 from Ruacana are gravel roads but they are in good condition and can be traversed in a regular vehicle. During the dry season the roads around the town are little more than tracks and require the use of a four wheel drive vehicle. The town has petrol stations; shops with basic supplies and markets where traditional Himba jewellery and trinkets can be purchased.
There are a quite a few accommodation options in the area including Epupa Camp; Epupa Falls Lodge; Fort Sesfontein Lodge and Khowarib Lodge.
Epupa Camp is located east of the Epupa Falls, on the banks of the famous Kunene River in Kaokoland. The area is dotted with waving palms and has offers some amazing sunset views and perennially flowing rivers. Epupa is a small tented camp which offers personalized service; delicious food and the seclusion of a lush riverine wilderness. The adjacent dining room and lounge area face the Kunene River and the camp has a small plunge pool where guests can cool off and enjoy a refreshing beverage. Other facilities at the camp include a telephone & fax machine; internet facilities for e-mail and a laptop. A small suspension bridge connects the lodge to its own private island where hammocks; benches and lounge chairs have been placed close to the river for guests to enjoy. Epupa serves three meals a day as well as afternoon tea and cake. Breakfast is a healthy affair with a buffet including fresh fruit and nuts; cereals; homemade muesli; freshly baked bread; meats; cheeses; tomatoes; cucumbers and eggs. Guests can also enjoy a light lunch which usually consists of quiches; lasagne or pasta accompanied by a fresh salad. Dinner is served on a 7m long dining table, guests with special dietary requirements are asked to inform the camp in advance. Accommodation consists of nine luxury safari-style tents which are each equipped with two single beds; en-suite bathrooms with hot showers and flush toilet; 220v electricity available six hours a day; 24 hour lighting for bedside lights and mosquito nets. There are also outdoor shaded balconies overlooking the Kunene River.
Epupa Falls Lodge was built amongst mopane bush; swaying makalani palm trees as well as baobab and fever trees and is set on the banks of the Kunene River, it is also the closest accommodation to the Epupa Waterfall. Other attractions in Kaokoland include the Baines Mountains; Marienfluss Valley; the Kunene River and the Ruacana Falls. The settlement at Epupa has a police station; a clinic; a small farm shop and Himba homesteads. The main feature of the lodge is a large living area and dining area with a restaurant and bar as well as sundowner deck overlooking the Epupa Falls. WiFi is available and recharging of equipment can be done as well. Accommodation consists of five rooms built on stilts with under-cover parking beneath. Four of the rooms have twin beds and one has a double bed. Rooms are also equipped with en-suite toilet and shower; mosquito nets; solar power and a large window overlooking the falls.
Fort Sesfontein Lodge is located in the centre of Sesfontein. It is set in the old German fort which was abandoned in around 1914. The former officers mess has been renovated into a restaurant with an integrated lounge and bar and there is also a large swimming pool which guests can use to cool off and relax or work out. Accommodation consists of rooms which have comfortable double beds and are arranged around the historic courtyard which is lush with palm trees. Each room has en-suite solar heated bath or shower with a bidet and toilet; mosquito nets fitted over the four-poster beds with a bedside table/lamp; built-in wardrobe and ceiling fans. The family room can accommodate up to two adults and two children and has facilities similar to the double rooms.
Khowarib Lodge is located about 10km from Sesfontein, about 1km off the main track towards Palmwag and is set on the banks of the Hoanib River. The area is an ideal one to partake in expeditions to track desert-adapted elephants and black rhino. The main lodge consists of the reception area; guest lounge; bar; dining area and curio shop. There is a complex lapa which is a huge thatched structure with amazing views of the surrounding area. The lodge has laundry service; secure parking; a curio shop and internet at reception. Meals can be ordered from a set menu but the lodge serves meals buffet style for larger groups. There are 14 double canvas chalets built on stilts with either twin or double beds. These also have spacious en-suite bathrooms; tall floor fans; tea/coffee stations; in-room safe and mosquito netting on the windows. The family units are slightly larger than the double rooms and are equipped with an extra bed and have features similar to the double rooms.
Written by:
Oliver & Sarinda Ahrens
PUBLISHED: Jun 9th 2017