Mowe Bay
Namibia
Mowe Bay was named aftr the German cruise ship, The Mowe.
Our Top Experiences and Tours in Namibia:
If youʻre booking your trip to Namibia last minute, we have you covered. Below are some of the top tours and experiences!

 The Skeleton Coast is undoubtedly a place of mystery and wonder, its name was derived from the skeletal forms of ships that are strewn all around. The wrecks were caused by ships smashing into rocks hidden by fog. The headquarters of the park is Mowe Bay which is about 80km north of Terrace Bay but it is not open to visitors. Mowe Bay was named aftr the German cruise ship, The Mowe which was noted for log book recordings of some of the first official sightings of Cape fur seals right off the coast of southern Africa in 1884. Mowe Bay is about 10km from the Honib river which serves as an unofficial border between Damaraland and Kaokoland. Gemstone beaches are quite a sight around the Bay. The stones are polished smooth by the waves coming in and out on the beach. The sparkling semi-precious stones might tantalise visitors to take a few as a keepsake but they should be warned that taking anything anything out of thepark is strictly prohibited.  The beautiful stones can usually be found scattered about whale skeletons and remnants of ships dating back 500 years. Although independent visits to the area are strictly prohibited, fly-in safaris and other excursions can be organised and are sure to be a highlight of any vacation. Wildlife in the area include desert black rhino; lion; brown hyena and birds such as Maccoa duck; bearded woodpecker; South African shelduck; Pintado petrel; wandering albatross; Cory's shearwater; crowned cormorant and the blackcap.Sea dwelling critters such as blue stingray; kingklip; blacktail; sand steenbras and redfingers; Cape fur seals; rough-toothed, bottle-nosed and dusky dolphin; humpback; sperm and killer whales can be found in this area as well.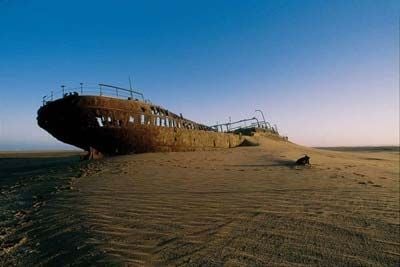 Accommodation options in the Mowe Bay area include Cape Cross Lodge; Hoanib Skeleton Coast Camp; Terrace Bay and Torra Bay.
Cape Cross Lodge is located in the Skeleton Coast, about an hour away fom the coastal town of Swakopmund. It is in an isolated part of the coastline, making it the perfect place for visitors wishing to explore the Skeleton coast and Damaraland areas. The lodge is a mix of Cape Dutch architecture and Namibian fishing village style. Accommodation at the lodge is in 18 double rooms or two semi suites. Each double room has an en-suite bathoom with a shower; a tea/coffee station; in-room safe and ocean facing patio or balcony. The semi-suites are larger than the double rooms and have en-suite bathrooms with a bath and shower; tea/coffee station; in-room safe; coffee table and two comfortable arm chairs. Meals are available from the a la carte menu and a buffet can be set up for larger groups. There is also a cocktail bar and private cellar.

Hoanib Skeleton Coast Camp replaces the Wilderness Coast Camp, it is located on the Hoanib river in one of the most remote areas of the Kaokoveld. Accommodation at the camp consists of eight units including one family unit. It also has a dedicated new airfield in the vicinity for improved access.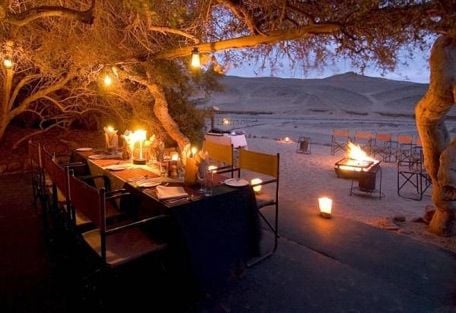 Terrace Bay is located in the Skeleton Coast Park, about 5 hous from the coastal holiday town of Swakopmund. It is the ideal place for those who enjoy angling. Fishing permits are essential and visitors must be well versed in the Fishing Act to know what sort of fish they can catch and in what quantity and how to transport them. Filleting is not allowed and visitors must bring their own tackle.  The tourist shop at terrace bay stocks branded t-shirts; fishing equipment; some basic groceries; alcoholic beverages and more. There is also a clinic with a resident nurse just in case. The dining room serves a variety of meals from a set menu. Accommodation consists of 20 double rooms and a beach chalet. The double rooms have twin beds; en-suite shower and toilet; a fridge and a tea/coffee station. The beach chalet is suitable for groups or families comprising from three up to ten guests and has facilities similar to the double rooms.
Torra Bay is about 270km from Henties Bay and the campsite is only open between December 1st and January 31st, which is also around the same time that Namibian schools are on vacation. Campsites must be booked and paid for in advance and the confirmation must be shown at the gate. There are 60 campsites at the resort and amenities are basic consisting of water; firewood; a shop and a petrol station. Guests are advised to bring their own equipment.  The main attractions at Torra Bay are angling; walking; bird watching and fishing.