Luderitz
Namibia
Luderitz, the lesser known coastal cousin
Luderitz is another coastal town in Namibia and has one of the best and least hostile harbours in Africa. The town was established in 1883 by Heinrich Vogelsand who purchased Angra Pequena and some of the surrounding area for Adolf Luderitz. The town was initially a trading post as well as a fishing and guano-harvesting town, but its popularity soon boomed with the discovery of diamonds in 1909 in Kolmanskop. Diamonds can these days be found offshore and Luderitz has settled into a comfortable small-town pace.
There are many notable buildings in Luderitz including the Deutsche Afrika bank; the Railway Station; the Old Post Office and the Felsenkirche or 'church on the rocks'. Other interesting buildings include the Krappenhoft and Lampe building; Woerman House; Troost House; Kreplin House and the Turnhalle.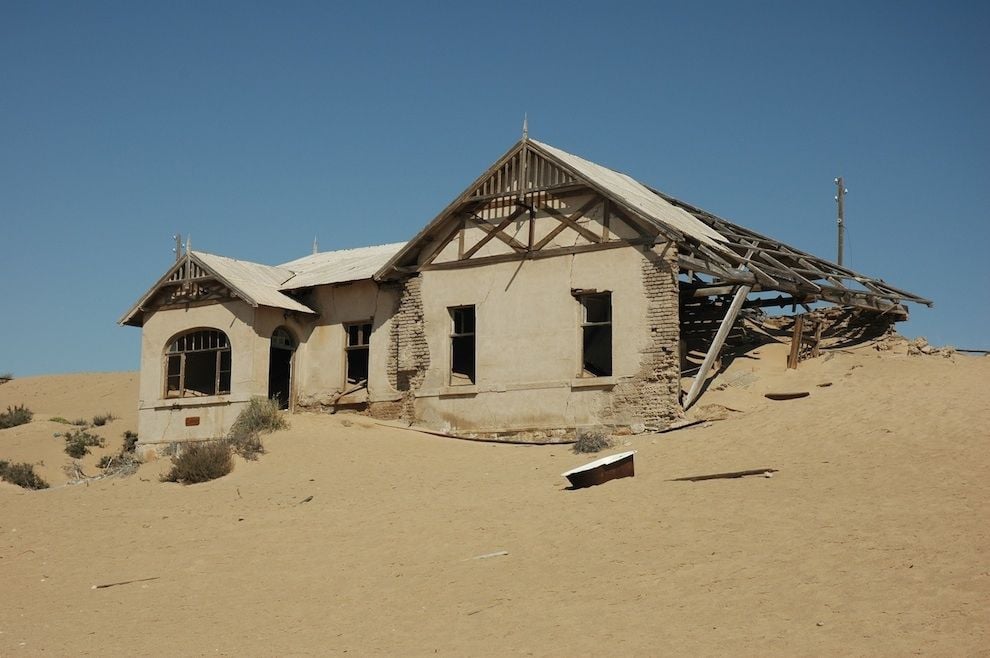 The town's harbour has a rock bottom and modern ships can't use the harbour due to its shallow depth, resulting in the main home of the country's shipping industry being based in Walvis Bay. However, the addition of a quay has allowed for the docking of larger vessels at Luderitz's harbour.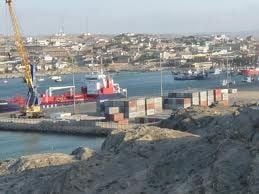 Accommodation in and around the Luderitz area is plentiful, with world class lodges and hotels such as the Bay View Hotel; the Luderitz Nest Hotel; the Island Cottage  and many more.
The Bay View Hotel is a family run establishment which is located in the town centre of Luderitz. It is also within walking distance of the waterfront complex. The hotel has a private bar; a la carte restaurant; barbeque area; swimming pool; laundry service; secure parking; Wi-Fi connectivity; 24 hour reception and is wheelchair accessible. Visitors can also bring their pets along as long as they have prior consent from the hotel. The hotel is well known for its delicious seafood platters which are crammed with a variety of produce including lobster; oysters; kingklip; monkfish; hake; calamari and smoked salmon. The hotel also has prime beef steaks; pork, chicken as well as lamb dishes and caters for vegans and vegetarians as well. Accommodation at Bay View consists of 22 en-suite rooms which all open onto the courtyard or the swimming pool. The single/double rooms are equipped with air-conditioning; satellite television; tea/coffee station; telephone; Wi-Fi and radio. The triple room is ideal for small families and has features similar to those of the single/double rooms.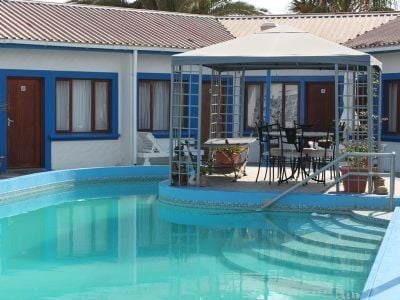 The Luderitz Nest Hotel is located directly on beach-front property. It is a four-star establishment which has all the features and facilities one would expect from a leading hotel. The hotel's facilities include a restaurant and cocktail bar with large terraces; swimming pools; secluded central gardens; private tidal beach with walk-on jetty; sauna; modern events centre; foreign exchange facilities; free Wi-Fi connectivity; 24 hour room service; secure on-site parking and laundry services.
The hotel has a sea-facing Penguin Restaurant which is famous for serving fresh Atlantic fish; delectable Luderitz lobster, oyster and abalone of the Cape Perlemoen variety. The menu is varied and includes local as well as international dishes and vegetarian dishes. A hearty breakfast buffet at the hotel would include a wide range of hot and cold foods and an all-day specialty coffee menu is available as well. The hotel's Crayfish Bar serves Namibian beers and liqueurs; imported South African wines, champagnes, whiskies and brandies.
  Accommodation at the Luderitz Nest consists of 73 en-suite rooms which include three luxury suites; wheelchair friendly units and large family rooms. The double & twin rooms are equipped with en-suite bathrooms with a bath with overhead shower or cubicle; air-conditioner/heater; tea/coffee station; hair-dryer; telephone; satellite television; heated towel rail; desk/chair; luggage rack; 24 hour room service and free Wi-Fi is available throughout the hotel.
The family rooms are two inter-leading double rooms with four extra-long three-quarter beds and similar features as the double & twin rooms in each room. The luxury suites are apartments which are twice the size of the double rooms and have their own separate lounge with desk/chair; two satellite televisions; mini-bar fridge; extra long king size bed; in-room safe; direct dial telephone and other features similar to those of the double rooms. The wheelchair units have wider doors; two extra long three-quarter beds and specially adapted en-suite facilities with similar features as the double rooms. Additional services at Luderitz Nest include airport transfers to/from the Luderitz airport; a children's pool, playground and baby-sitting services.
Island Cottage is a self-catering establishment located on Shark island, about 800m from Luderitz. The island is joined to the mainland by a causeway, making it a great stop-over when visiting the coastal town. Facilities at the hotel include laundry service; internet connection; daily room service and secure parking. Accommodation consists of the Seagull; Penguin or Flamingo Cottages. Each cottage is equipped with en-suite bathrooms; television; telephone; overhead fan and a tea/coffee station. The kitchen is fully equipped and has a toaster; kettle; crockery; cutlery and a small stove. Each cottage also has a barbeque area with a patio. Oysters and champagne can be arranged upon request.
Activities in the Luderitz area include excursions to the ghost town at Kolmanskop; trips to the Diaz Point Nature Reserve, a Penguin colony, Agate Beach; Dolphin viewing trips as well as fishing trips and bird-watching; bike tours; surfing and wind surfing.