Daan Viljoen
Daan Viljoen Game Park has a host of fabulous accommodation in and around the park
The Daan Viljoen National Park is the closest national park to the capital city of Windhoek, which is about 25 kilometers. It is ideal for travellers and groups of all sizes. The park and resort is open all through the year and what sets this park apart is that visitors are permitted to walk around the park, unlike the other parks where visitors are confined to vehicles. There are also two well marked hiking trails that visitors can try out at the park. The park is a favourite for mountain biking enthusiasts. Daan Viljoen has a host of wildlife such as gemsbok, kudu, mountain zebra, springbok, hartebeest, warthogs, elans and over 200 bird species including the rare green-backed heron and the pin-tailed whydah.
Facilities at the park include a reception area with an internet cafe and wireless internet is also available. There is a restaurant called The Kraal where guests can enjoy their meals and there is also a restaurant at the swimming pool. Both these dining areas are wheelchair friendly. Guests have the choice of delectable meals from the restaurants' a la carte menu. There is also secure parking, 24 hour security as well as laundry and room service. Cots and baby beds can be provided for those families travelling with younger children.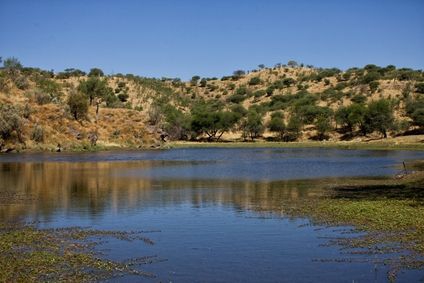 There is a kiosk at the park from which beer, ice, firewood, meat and groceries can be purchased. There are also two conference centres which can accommodate up to 30 delegates each and one of these conference centres can double as a function room which can seat up to 300 guests for occasions stemming from birthdays to weddings to anniversaries.
Accommodation available on the park's premises includes 17 chalets which are fully equipped with en-suite bathrooms, queen-sized bed, flat screen television with hotel package DStv channels, fan, mini-bar, tea/coffee station, in-room safe, telephone and cutlery. There is Wi-Fi available in the chalets as well as insect repellents.  Guests can host barbeques on the private patios attached to the chalets. All of the rooms are non-smoking and wheelchair friendly.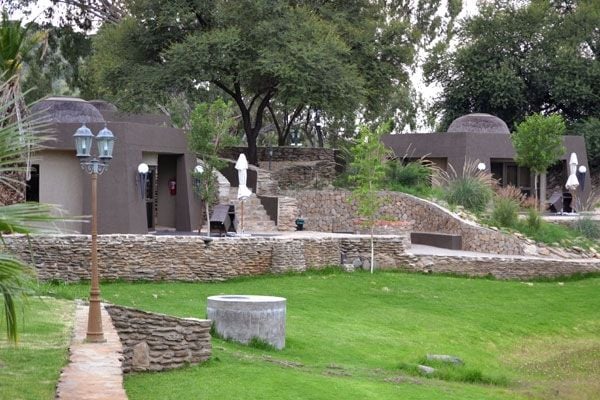 Accommodation near Daan Viljoen Game Park include the Eagle Rock Guest Farm, Dusternbrook Guest Farm, Hochland Nest, Windhoek Game Camp and Mike fan Guest House.
The Eagle Rock Guest Farm offers comfortable lodgings with a welcoming atmosphere. The guest farm offers comfortable lodgings in a friendly and welcoming atmosphere. It is located about 35km from Windhoek and it a truly spectacular African getaway. Accommodation consists of spacious twin bed bungalows with large bathrooms. There is unlimited internet access for guests' convenience, a sparkling pool where guests can cool off and one of the rooms at the guest farm has wheelchair access. Guests are spoilt with early morning tea with options of homemade cookies, warm bread & rolls, jam, ice-cream and fresh fruit and vegetables.
Dusternbrook Guest Farm is located near Windhoek and is set in a peaceful area overlooking a scenic riverbed. The guest farm is built out of natural stone. Accommodation at the guest farm includes lodge rooms; a chalet; furnished safari tents and a small campsite. The two luxury safari tents are located right next to the riverbed and are ideal for those guests who wish to enjoy nature in all its entirety. The camp sites at the guest farm have separate ablution facilities. While at the farm, guests can catch glimpses of wildlife such as oryx, steenbok, Cape eland, kudu, rhino, waterbuck, zebra, baboon, cheetah, leopard, wildebeest and more. Rates at the guest farm include breakfast, dinner and two activities available at the guest farm which consist Cheetah and Leopard drives.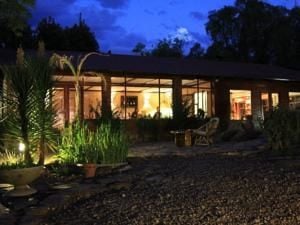 The Hochland Nest is situated beneath the canopy of the majestic Hochland mountains and the Fredenhou dam. The lodge prides itself on its eco-friendly design and is just a 40 minute drive from Windhoek. The lodge has a cosy atmosphere and offers accommodation in the form of four standard chalets, two luxury chalets which are individually styled and furnished. The chalets all have their own en-suite bathrooms and a secluded deck is the perfect place for guests to have themselves a little sundowner. The lodge is also an ideal place for companies to host their team building events. The lodge can cater for function of up to 20 people.
Windhoek Game Camp is situated at Brakwater, about 20 minutes from Windhoek. The luxury self-catering tents at the camp are located in an electrified fenced enclosure for guests' safety. The camp is family-owned and is set in the middle of nature. It is the perfect place to get away from the hustle and bustle of the city for a while and enjoy some peace and quiet.
Mike Fan Guest House is located in the Windhoek suburb of Katutura, the guest house is located near a shopping complex for guests' convenience and offers accommodation in the form of six comfortable guest rooms. The guest house is fully equipped for those guests who wish to make use of the self-catering facilities, alternatively guests can request breakfast, lunch and dinner to prepared for them. Mike Fan also has 24 hour security, secure parking, free Wi-Fi as well as televisions with DStv.
Whichever option visitors choose, their proudly Namibian trip is sure to be an unforgettable experience.