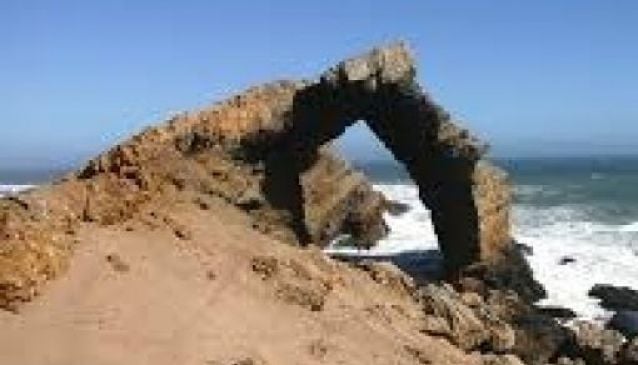 Sperrgebiet
Namibia
In 2008 the park spanned an area of about 26 000 square kilometres of globally important semi-desert
The Sperrgebiet National Park is open only to visitors travelling with a Ministry of Environment and Tourism (MET) concessionaire. It can be accessed via the B4 road, on the tarred road between Keetmanshoop and Luderitz.
In 2008 the park spanned an area of about 26 000 square kilometres of globally important semi-desert. It is Namibia's newest National Park and as such is still largely undeveloped and inaccessible to visitors. However, visitors can still venture to explore the area. The Forbidden Territory starts at the Atlantic coastal town of Luderitz and takes visitors to the southern area of the park to the amazing 55m Bogenfels rock arch and on to a modern diamond mine and the mysterious and slightly spooky ghost town at Elizabeth Bay. Visitors the venture to another ghost town, Pomona which is reputed to have the highest average wind speeds in Southern Africa.
At the park's southernmost border, visitors can spot a large variety of birds and animals which frequent the Orange River.
Should you be fortunate enough to gain the opportunity to visit the area, there are plenty of world class accommodations available including the Bay View Hotel; Island Cottage; Kairos Cottage and the Luderitz Nest Hotel.
The Bay View Hotel is located in the centre of the town of Luderitz and is a family run establishment. It is within range of any amenities guests may require. The hotel has its own private bar for guests to enjoy; an a la carte restaurant; a barbeque braai area; a swimming pool; laundry service as well as secure parking. The hotel also offers free Wi-Fi in the 24 hour reception. The Bay View is well known for its divine seafood platters which have a variety of fish including lobster; oysters; kingklip; monkfish; calamari; hake; smoked salmon and more, the hotel also serves a variety of other dishes including steaks, pork, chicken as well as lamb dishes. The hotel also has meals that caters for vegetarians and vegans. Accommodation at the hotel consists of 22 en-suite rooms which all open onto the courtyard or the swimming pool. The single/double rooms are equipped with air-conditioning; satellite television; tea/coffee station; telephone; radio and Wi-Fi and the triple rooms are perfect for small families and have similar features as the single/double rooms.
Island Cottage is located about 800m from the town of Luderitz on Shark Island. The island is connected to the mainland by a causeway, making it an ideal stop-over for visitors wishing to drink in the sights of the town. All the rooms at Island cottage have amazing ocean views. The establishment is self-catering with a quaint kitchen where guests can whip up their own meals or have a nice barbeque. Facilities at Island Cottage include laundry service; internet connection; daily room service and secure parking. Accommodation includes the Seagull; Penguin or Flamingo Cottages which are equipped with en-suite bathrooms with a shower and toilet; telephone; television; overhead fan and a tea/coffee station. The kitchens are fully equipped with a toaster; kettle; crockery and cutlery as well as a small stove. Each cottage also has a barbeque area on a patio.
Kairos Cottage is also located on Shark Island and is a bed and breakfast establishment. Breakfast at Kairos Cottage can be ordered from the coffee shop and served in the breakfast room. Guests are entertained by Christo who was a former member of the Drakensberg Boys Choir. Breakfast packs can be ordered for those heading out early and light lunches are also available in the coffee shop. Kairos Cottage also provides laundry service as well as Wi-Fi connection. Accommodation consists of five fully furnished en-suite rooms with either queen size beds or twin beds, the rooms are also equipped with air-conditioning; tea/coffee station; fridge and a television with DSTV hotel package. Each room also has its own barbeque area.
The Luderitz Nest Hotel is located directly on beach front property and is the ideal place from which to explore the quaint coastal town. The Nest Hotel is a four star establishment and has all the facilities that go with a leading hotel including a restaurant and cocktail bar with wide terraces; swimming pools; secluded gardens; private tidal beach with walk-on jetty; sauna; modern events centre; foreign exchange facilities; free Wi-Fi; 24 hour room service; secure on-site parking as well as laundry service. The hotel has an ocean facing Penguin restaurant which is well known for serving super fresh Atlantic fish; delicious lobster; oyster and abalone of the Cape Perlemoen variety. The menu also includes a variety of local; international; diabetic adapted; vegan as well as vegetarian dishes. The hotel's Crayfish Bar serves Namibian beers and liqueurs; imported South African wines; champagnes; whiskies and brandies. The Nest Hotel has a whopping 73 en-suite rooms, including three luxury suites; wheelchair friendly units and large family rooms. The double & twin rooms are equipped with en-suite bathrooms with a bath with an overhead shower or shower cubicle; air-conditioner/heater; tea/coffee station; hair dryer; telephone; satellite television; heated towel rail; desk/chair; luggage rack; 24 hour rooms service and free Wi-Fi. The family rooms are two inter-leading double rooms with four extra-long three-quarter beds and similar features as the double rooms in each room. The luxury suites are apartments which are twice the size of the double rooms and have their own separate lounge with desk/chair and other facilities including two satellite televisions; mini-bar fridge; extra-long king size bed; in-room safe; direct dial telephone and other features similar to the double rooms. The wheelchair units have wider doors; two extra-long three-quarter beds and specially adapted en-suite facilities and similar features as the double rooms. Additional services at the hotel include airport transfers to and from Luderitz Airport; Children's pool, playground and baby-sitting services.
Written by:
Oliver & Sarinda Ahrens
PUBLISHED: Jun 9th 2017