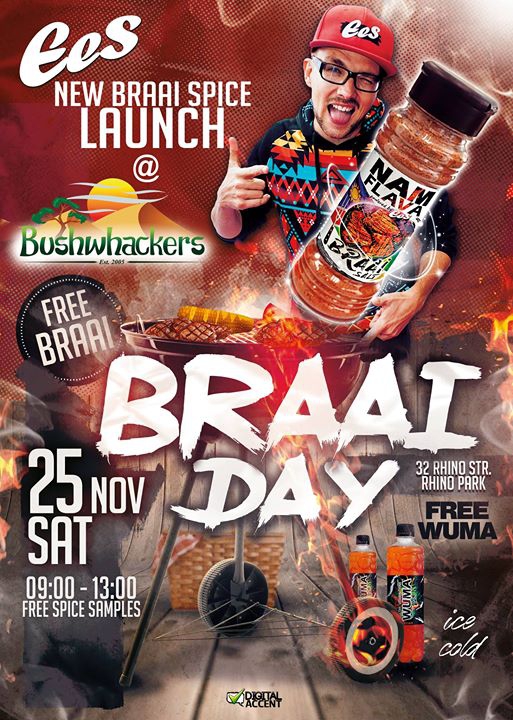 NAM FLAVA Braai Spice Launch
Bushwhackers Campworld
Sat Nov 25th 2017 at 09:00 until 13:00
---
Namibia
,

32 Rhino Street Rhino Park

,

Windhoek

,

Windhoek
https://www.myguidenamibia.com/events/nam-flava-braai-spice-launch-braai-day
BOOK NOW
Event Details
Come visit Bushwhackers on Saturday the 25th Nov - from 09:00-13:00 and meet EES on the launch of his new Braai SPice called 'NAM FLAVA Spice'

EES has always been a very creative entrepreneur when it comes to releasing local items. From the Namibia Flag shoes to the vitamin energy drink 'WUMA' and many prouder local products.
This time he teamed up with the well-known Namibian spice company NAMCAS to create a 'Braai Spice' that has that special Namibian taste to it and he called it 'NAM FLAVA Spice' of course.
'...I have always put all my effort into making QUALITY products.
There are too many fly-by-nights that just release cheap products to get rich overnight. But it's time that Africa gets used to quality products and supports the local market!'

The new spice does NOT contain any MSG (Mono Sodium Glutamate), no colourants or preservatives and make it one of the few products on the market today that is this much health aware.

'...the Nam Flava Spice is an ALL-IN-ONE spice that can be used for any time of meat or even vegetarian dishes as its totally vegan friendly. I know we Namibians like to eat meat - but I didn't want to leave anybody out!-)'
The Nam Flava Spice is sold in most local Supermarkets or Retailers - but also is selling and shipping worldwide via the new online shop on www.namflava.com which gives Namibia a great opportunity to also start exporting local goods to other countries in the world.

So do go out there and start supporting our own 'Nam Flava' products.